By Kathy M. Newbern and J.S. Fletcher
Having relished extensive ocean cruising the past two decades, in recent years we've added several river cruises in the mix, with great delight. Our latest, aboard the 158-passenger AmaViola provided several check-offs on our must-see list: the Danube, Prague, Budapest and one of the newest ships from highly-rated AmaWaterways.
"Ama" comes from the Latin word for love. We found much to love on AmaViola: the attentive staff, the ship's thoughtful details, a super comfortable cabin with ceiling-to-floor views of the passing scene plus extremely well-planned itineraries.
With four decks, the ship primarily sails the Danube on seven-night cruises calling at eight destinations across four countries: Germany, Austria, Slovakia and Hungary. Pre- and post-cruise land extensions are available.
Cruise manager Sebastien Leroy is one of the most well-versed we've met in our 70+ cruise experiences. For the bus ride to the embarkation at Vilshofen, Germany, he not only rode with passengers picked up in Old Town Prague, Czech Republic, but throughout the cruise was ashore on nearly every excursion checking that all was well and guides were accurate. Plus, his quick smile was a delight.
Our Vilshofen evening was a great kick-off to the journey: an exclusive, riverside mini-Oktoberfest where we met the beer queen and sampled her pilsner wares.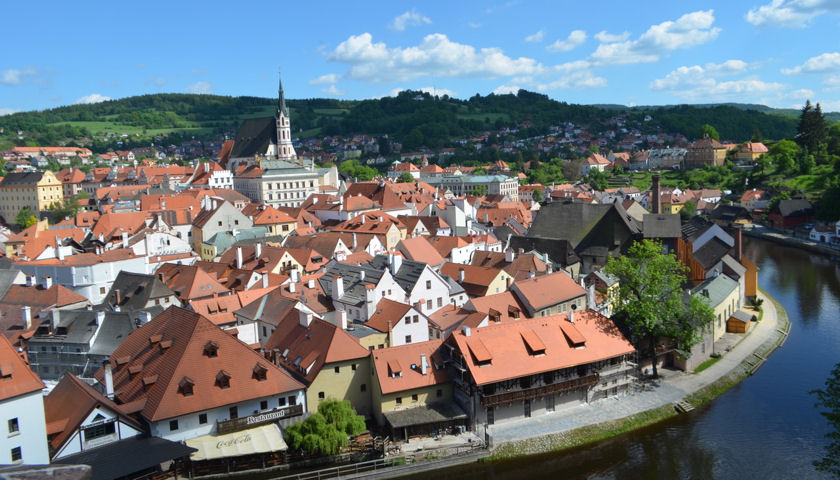 Each Day a New City
The itinerary allowed us to call at a different city each day, traveling next to Passau, Germany, the city of three rivers – the Danube, Inn and Ilz. Excursions, which are part of the cruise fare, included a walking tour of this charming, romantic port or a Castle Hill hike.
Guides use Quietvox audio headsets so each guest can easily hear even if located at the back of the group or lagging slightly at a point of interest. Outings offer three group levels: gentle Walkers for a slower stroll, regular walkers for a moderate pace, and active walkers for covering ground more quickly.
We next docked in Austria's third largest city, Linz, called the capital of Upper Austria. Choosing the slower-paced walking tour to savor this city of 200,000, we enjoyed the Old City Hall plus the main square's white marble, Baroque Trinity Column rising 65 feet. It sits amid car, pedestrian and light-rail tram traffic and just steps from the bustling, colorful vegetable and flower market. The city prides itself on technology, art and culture plus some unique architecture.
AmaViola docked alongside a cascading green space used for concerts and events riverside. It's popular with younger residents catching the day's last rays, and one spot is a pseudo-beach with sand and sling chairs.
Our afternoon excursion — our favorite of the cruise — took us back into the Czech Republic to the fascinating, medieval town of Cesky Krumlov, a UNESCO World Heritage Site.
A picture awaited at every turn as the picturesque city sits on the banks of a bend in the Vltava River. Buildings with Gothic, Renaissance and Baroque elements line cobblestone streets. The bird's-eye view is from its 13th-century castle, where we spotted Singapore's president touring with a large entourage.
We were ecstatic over our excursion choice, but it wasn't an easy one as the same afternoon featured outings to either the Austrian Lake District or Salzburg. "Sound of Music" fans were thrilled.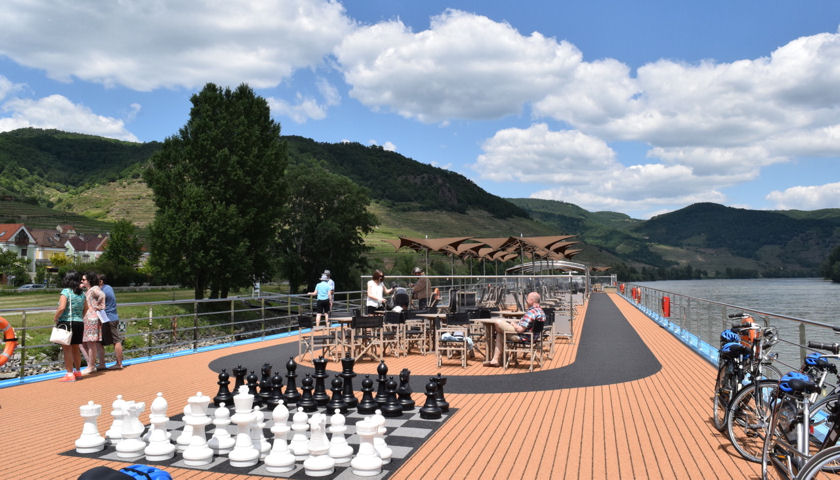 Scenic Cruising
Cruising is about being on water, and the next morning's scenic cruising in the beautiful Wachau Valley offered yet more amazing photo opps: castles and ruins; small cabins dotting the shoreline; stunning, verdant hillsides of terraced vineyards, samples of which we tasted on an evening excursion.
The charming village of Durnstein was a postcard with its "blue church" — the highlight color on a towering white Baroque tower and statuary — behind which rising terrain features outcroppings and a ruin the town is particularly known for. In this former castle, Richard the Lionheart was kept captive 1192-93 during the Third Crusade, this English king having refused to share war's spoils with Leopold V.
We next visited the extraordinary Melk Abbey, the area permanently settled as early as the 9th century. The Danube view from its terrace is inspiring and in early years was the perfect military camp to spot raiding barbarians. Inside are impressive frescoes and sanctuary plus a soaring library with 100,000 irreplaceable books and 2,000 manuscripts.
Other cruisers opted for the 20-mile guided bike ride along the Danube. In fact, AmaWaterways is rolling out is new Wellness Program across select ships to include refined menus, new group exercise options and nutritional information sessions with a dedicated coach.
AmaViola features a heated swimming pool with swim-up bar on the uppermost Sun Deck as well as a giant chess set, walking track, and chairs and loungers in either sun or shade. Bicycles on board let guests explore ports on their own or join cycling excursions. There's also a fitness room, and for sore cycling muscles, a masseuse can be booked in the attractive one-room spa. A hair salon is next door.
Next stop was elegant, cultural Vienna, known for her musical prodigies like Strauss whose golden statue is a centerpiece of Stadtpark (city park). After a tour of the city center, we ventured out on our own for an elevator ride to the top of the soaring St. Stephen's Cathedral. Fortunately a service was underway and the music was lovely. Many opted for a special evening concert featuring the music of Strauss and Mozart.
Relaxing on the top deck for the next morning's cruising was a delight. An afternoon tour of Sovakia's captial city Bratislava provided more discoveries like whimsical statues, streets with colorful old buildings, an historic tower and the last standing medieval city gate at the entrance to the old town.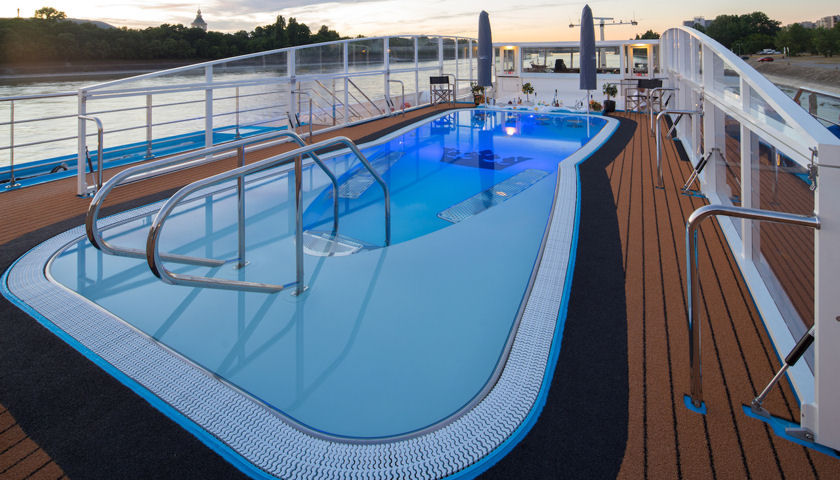 The Hub of the Ship
AmaViola's decks bear the names of instruments of classical music. The Violin Deck, is the hub of the ship, the place for light breakfasts, afternoon tapas, nightly entertainment and dancing, live piano music and a pair of friendly bartenders manning the fully-stocked bar. (They quickly learned each passenger's preference and name.)
After dinner, entertainers from local ports ranged from musicians to modern dancers and singers, to traditionally costumed troupes. We purchased a CD by a talented trio of young, classical musicians.
This main deck also houses reception, a glass elevator, a small gift shop, popular self-serve coffee spot, and a few steps up, desks for the cruise and hotel managers. The forward outer deck is the observation lounge, an al fresco terrace with chairs and loungers for conversation over drinks or to watch the river or night sky as the ship cruises to the next port.
Cello Deck, below, features a welcoming dining room. Breakfast and lunch options include both an extensive buffet and select made-to-order entrees including a lunch soup du jour. The Continental cuisine features local fish and produce for fresh, tasty meals. The menu is varied with chefs taking inspiration from each day's port of call, such as Austrian Tafelspitz. Alternate entrées are always available.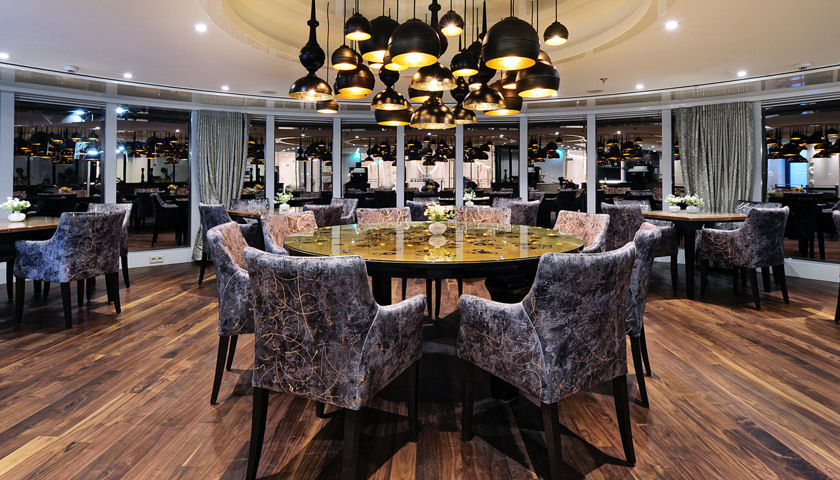 Chef's Table, Customized Breakfast Service
Dinner features table service, and evening dress is country club casual though some opt for jackets for gents and dresses for ladies. There is one Captain's Dinner per cruise. Premium red and white wine, beer and soft drinks are available at no extra charge at both lunch and dinner.
Open seating means guests can dine on their own or in small or mid-size groups, meeting passengers and making friends. Two smaller, dining areas allow for private group dinners or special celebrations.
Upstairs, the nightly Chef's Table is a spectacle for eyes and palate with intricately presented dishes paired with wines over five tasting courses plus an amuse bouche and cleansing sorbet. We sampled aged beef brisket with whiskey sauce and pumpernickel foie gras for example. Some enjoyed this dining option so much, they returned a second time (no extra charge but reservations needed).
The chef and wait staff are spot-on in appearance and service, which is stellar both here and throughout the ship. All in the AmaWaterways fleet are members of the prestigious Parisian culinary organization La Chaine des Rotisseurs.
Lighter fare breakfast is available in the lounge for early or late risers; "regular" risers have a full-service option in the dining room. The anytime, self-serve coffee machine dispenses regular, espresso, cappuccino, latte macchiato, espresso macchiato, caffe latte and hot chocolate plus hot water for varied tea selections.
Cold tea and flavored water are always available in the lounge, plus afternoon tapas and nighttime snacks. An interesting find on the lunch buffet was gemstone water, such as rose quartz-amethyst-mountain crystal. Signage notes potential benefits for metabolism, skin and cardiovascular health.
Near the lounge is a small library with comfortable seating alongside an electronic fireplace. Board games are here as well. Complimentary Wi-Fi works well throughout the ship.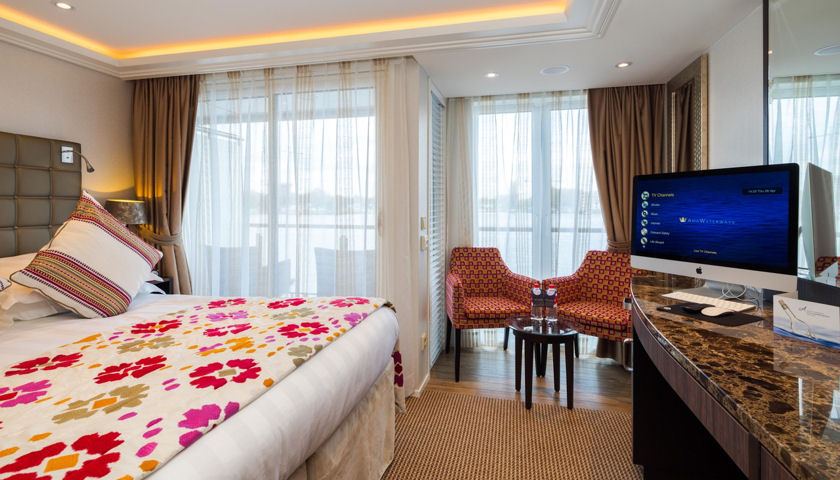 AmaViola has 78 well-appointed staterooms in nine categories including four suites. There's underbed storage for suitcases, adequate room for clothes, plus a closet safe. All cabins are equipped with Egyptian linens and duvets, terry robes and slippers. On the desk is a Mac computer that doubles as a flat-screen TV for on-demand entertainment including free movies, a direct dial phone. Underneath is a mini fridge with complimentary bottled water restocked daily. Two USB ports by the bed kept electronics charged.
A bathroom discovery was a blue light motion sensor that acts as a night light — clever. Showers feature a rain head plus hand-held wand. The modern, gleaming-white bathroom has a large see-through window to the living/sleeping area that can be subtly shaded to a partially translucent white.
Guests departing on excursions are always offered free, cold, bottled water. Upon return, staff greet them with deliciously scented, chilled towels and a smile.
Since the view is a big draw for slower-paced river cruising, it's notable that even the two lowest category cabins have two, nice-sized, fixed windows. Four upper categories have a French balcony (all glass but no outside access), and five categories have AmaWaterways' signature twin balconies featuring both a French and step-out balcony side-by-side with choice of open-air, covered access or floor-to-ceiling glass with two inside seats.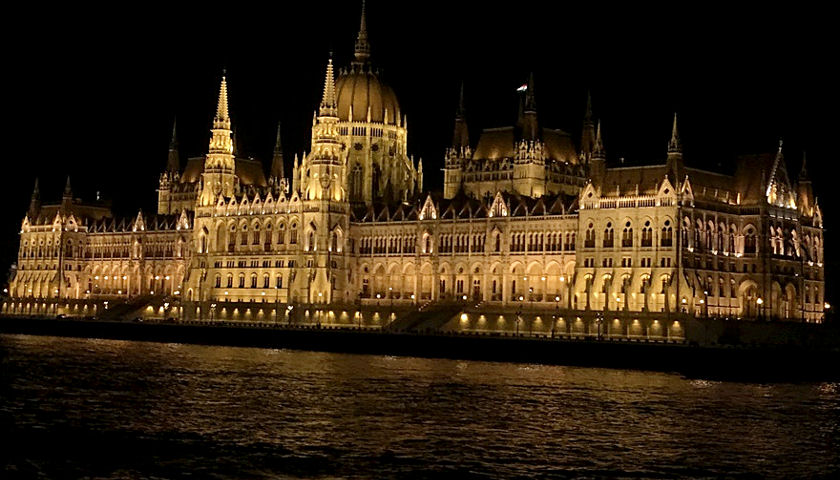 Grand Illumination Cruise
Passengers were all abuzz anticipating our arrival at our final port of Budapest. The ship's program advised: "The sun deck is the place to be to enjoy our grandiose entry to this tremendous city."
Among city tour highlights were Heroes' Square, Mathias Churc alongside Fisherman's Bastion (site of a medieval fish market), the State Opera House, Chain Bridge and the distinctive red-brick and cast-iron Central Market Hall, plus so much more like the famed Szechenyi public baths, circa 1913.
After a full day exploring, the highlight of our overnight stay was the evening's Grand Illumination Cruise.
What had our heads turning by day – massive buildings on both sides of the Danube – like the Castle District high on the Buda side and the many-spired Hungarian Parliament on the Pest side – suddenly emerged in a different way with dramatic lighting.
We highly advise following our lead by arranging a pre/post stays in Prague and  Budapest but regardless, don't miss the beautiful Danube in AmaWaterways style.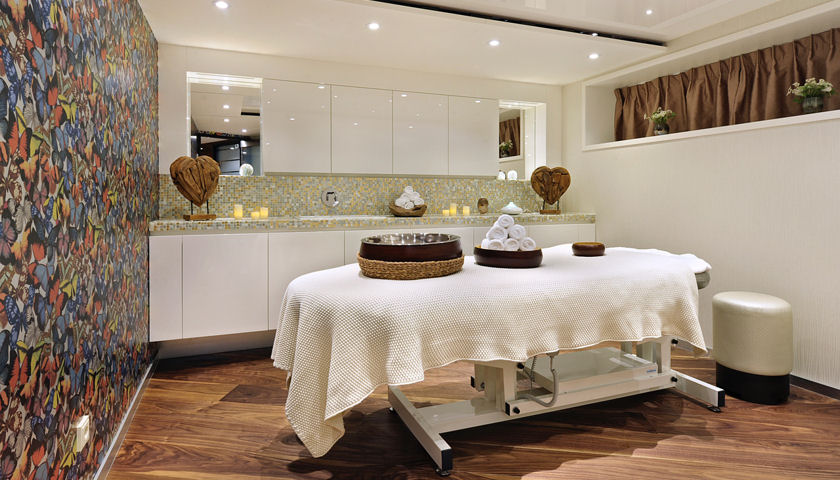 If You're Going: AmaWaterways' European fleet currently includes AmaBella, AmaCello, AmaCerto, AmaDante, AmaDolce, AmaKristina, AmaLyra, AmaPrima, AmaReina, AmaSerena, AmaSonata, AmaStella, AmaVerde, AmaVida, AmaVenita and AmaViola. AmaLea joins the fleet in 2018. The Exotics division consists of AmaDara on the Mekong in Vietnam and Cambodia and the Zambezi Queen on the Chobe in Botswana. Visit AmaWaterways.com or contact a travel agent for more. Note: The  single supplement is waived on many sailings.
For more on our luxury hotel stays in Budapest, check out Aria Budapest and Boscolo Budapest.
Husband-wife team J.S. Fletcher and Kathy M. Newbern are award-winning freelance travel journalists based in Raleigh, NC, and as a result of this trip added four more countries to total 76 visited. They often incorporate their travels into their other business, www.YourNovel.com, where they put you and your sweetie in your own personalized romance novel "wild" or "mild."
Photos courtesy of AmaWaterways and Fletcher/Newbern