By Kathy M. Newbern and J.S. Fletcher
Scenic Cruises' Scenic Ruby sails the Danube, Main and Rhine rivers in style throughout the year, allowing cruisers to take advantage of Europe's musical heritage, seasonal wine festivals, stunning scenery, Oktoberfest, Christmas markets, or, as we discovered, Holland's fantastic tulip season.
With only 165 passengers aboard, we found ourselves quickly making friends from many nationalities. There happened to be a few more Americans than usual on our sailing. The Australian company attracts higher numbers of Australians, Europeans and Canadians. Solo travelers, couples, friends and families all amicably not only share in more than ample space aboard but also shore excursions. Open seating for dining provided many opportunities to meet others as well as, yet there were private, romantic dining experiences if desired.
This trip, the median age skewed much younger, too. We were surprised when the affable cruise director said age 70 is the average. Age is, of course, just a number, and Scenic cruisers are well traveled, curious, adventurous and appreciate how Scenic superbly delivered its version of all-inclusive.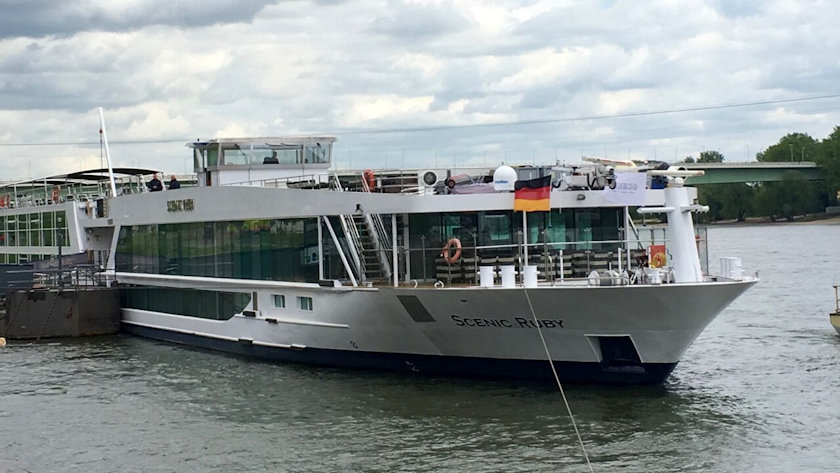 Great Service at All Levels
From the first moment of embarkation, unparalleled attention by the crew to passengers was evident. One UK passenger said, "They can't do enough for you," adding, "As soon as I arrived, a gentleman came up to me to take my bag. I turned to see that my lock was on and then noticed he seemed very well dressed. That night at the lounge talk, I saw he was the captain."
Captain Tibor Nagy's warm smile and demeanor evoked confidence. Early on he explained we'd cross 12 locks total on this seven-night "Rhine Highlights" voyage from Basel, Switzerland, to Amsterdam. The narrowest lock is 39.37 feet wide. The ship is at 37.57, so he and his team's skills were evident traversing locks, a fascinating maneuver to watch.
The 53-person crew created a cohesive fabric that delivered on Scenic's company promise to "unpack once and watch the world go by." Conversations all week about staff and service were peppered with accolades like "brilliant," "unbelievable," "impeccable."
Morning breakfast even offerered Moet and Chandon champagne. Said one passenger, "It would be sacrilege to make a mimosa from this." The waiter smiled broadly and nodded, handing her the fresh-squeezed orange juice on the side.
Staff quickly learned not only guests' names but their bar preferences and cabin routine – whether early or late riser, for instance. A pair of California travelers originally ordered Jameson's and Crown Royal at the bar. The bartender subsequently nicknamed the two Mr. Jimmy and Mr. Crown, and whenever he saw them coming had their cocktails waiting.
The front desk stood ready to answer any questions and provide services like supplying bottled water before leaving the ship, offering up an umbrella or giving directions to local restaurants and landmarks. The crew relished time with passengers, showing a sense of pride in their work and for their ship.
By night five, waiters, cabin stewards and front desk staff were dancing with guests at disco night – even the hotel manager and effervescent cruise director joined in. Just hours before dressed in their sharp uniforms, they had paraded into the lounge to guests' cheers and applause. Afterward, they sang in unison their own rendition of "Leaving on a Jet Plane" turned into "You're Leaving on a Space Ship… Can't wait til you come back again." ("Space ships" is the company's tagline touting elbowroom on these river ships.)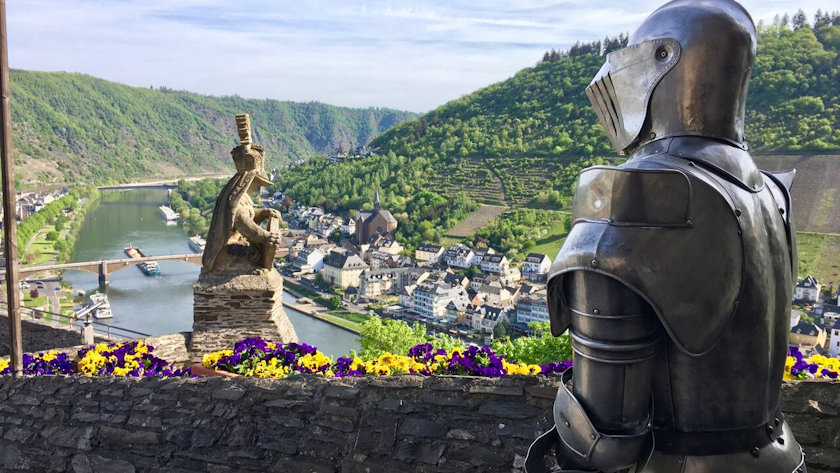 Unforgettable Experiences Ashore
Each port excursion created memorable highlights even though we'd visited all but two previously. That's the thrill of European river cruising – there's always more to discover even on return visits.
Strasbourg – While some opted for a guided city tour or a hike into the Black Forest area, we selected a trip to Mittelbergheim in the Alsace wine region. There, we met Albert Seltz, 14th-generaton winemaker whose vineyard dates to the 1500s. His passion was infectious; his humor keen. Having taken over the family business at age 19, he's grooming his son as the next generation at the helm. Not rookies to wine tours, we appreciated the frank take Seltz had on growing grapes and modern wine. "Fruitiness for me is so boring," he exclaimed while serving samples of his Le Granit du Rebbeuhl, Riesling Andlaugass, Pinot Auxerrois and Gewürztraminer. He proclaimed, "There are no bad wines, only bad winemakers." A good year for wine? "A sun year," he said with a smile. He grows seven varietals, all strictly organic.
Mannheim – From this dockage point, we visited Heidelberg Schloss (castle) in the city that's home to Heidelberg University, founded in 1386. It's also home to the world's largest wine barrel. Built in 1751 and holding 58,124 gallons, it was so large that 50 people could dance atop it enjoying its contents via a direct pipeline from the interior. We found the city center thriving with shops, restaurants, impressive churches and a central fountain. The town is also famous for the Heidelberg printing press.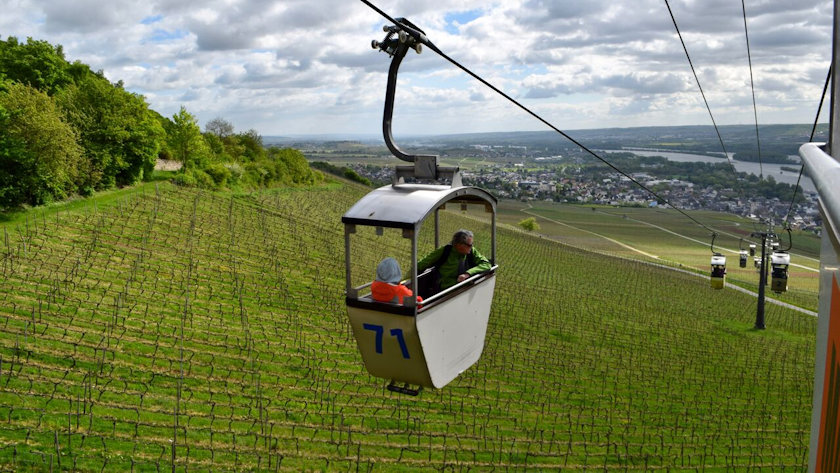 Rudesheim – Though our second visit, it was our first time taking the cable car to the top for incredible views of the Rhine Valley and to see the Niederwald Monument created between 1870 and 1880 to commemorate the unification of the German Empire after the Franco-Prussian war ended. In town, we sampled the famed Rudesheim coffee, a ritual presentation where brandy is flambéed to melt sugar cubes in a cup and topped with hot black coffee, whipped cream and chocolate sprinkles that melt deliciously. Siegfried's Mechanical Music Cabinet, a museum housing over 350 antique self-playing music machines covering three centuries of craftsmanship, is the town's most visited attraction.
Middle Rhine – One of the most beautiful cruising experiences anywhere is not found in a port, but rather on the Rhine, where an afternoon of Rhine Gorge cruising spotlights 21 fairy-tale, medieval castles which leaves an indelible impression. It is so special that the area is a designated UNESCO World Heritage Site. The Scenic Ruby delivered a plethora of life on the Rhine, which can be viewed from the outside decks, but we also enjoyed watching from our wide, private balcony outside our cabin — called a Sun Lounger in Scenic lingo. At the push of a button, the upper glass automatically lowered, giving full access to the passing panorama which included barges and working boats, towns and bridges, mountains, rowers, picnickers, bikers, kite-surfers, miles of hillside vineyards, sheep, cyclists, cows, industrial plants, fishermen, sunbathers and young couples and families walking along the banks of the fast-flowing river.
Koblenz – This memorable city was again, a second visit, but the first time exploring it via Scenic's electronically-assisted e-bikes, which were so easy to use that we wondered why we hadn't tried them out sooner. First though, we traversed by bus for an hour along the Moselle River, which joins the Rhine at Koblenz. Our destination was Cochem and 11th-century Reichsburg Castle, which evokes fantasies of medieval times. A delightful costumed guide with thick accent showed us highlights including a mermaid chandelier she instructed guests to touch and make a wish, knights' room with armor, stained glass, banquet halls, tapestries and more. Koblenz itself offers many unique experiences, like the cable car that carries passengers over the Rhine where they can visit the Ehrenbreitstein Fortress as well as Deutsches Eck (German Corner) where the Moselle joins the Rhine. Overwhelming this spot is the massive statue of first German Emperor William I on horseback. Originally erected in 1897 in appreciation of his part in the unification of Germany and destroyed during World War II, the statue was replaced with a replica in 1993.
Cologne – Gauged to be over 2,000 years old, Cologne is best known for its city-center, Gothic, twin-spired cathedral (another UNESCO World Heritage Site). We've explored it both inside – with the shrine holding the bones of the Three Wise Men since 1164 – and out. Next door the Museum Ludwig houses modern art and also pieces by Picasso and his contemporaries. The tiered-arch Hohenzollern Bridge is restricted to rail and pedestrian traffic, which makes for a delightful walk across the Rhine. This is a love-lock destination, holding more than two tons (thousands) of padlocks left attached to the bridge in honor of couples' undying love. Across the river is KölnTriangle, a 339-foot skyscraper with an observation deck perfect for a panoramic view.
From Cologne, our evening outing was part of Scenic Enrich, an elegant concert in ornate Rastatt Favorite Palace on the outskirts of Rastatt-Förch in Baden-Württemberg, Germany. A male/female duo performed with excellent pianist accompaniment beneath an elaborate ceiling and shining chandeliers in the oldest intact German "porcelain palace" (for the large Chinese porcelain collection). Fittingly, it was built in the early 1700s as a maison de plaisance (pleasure palace), and served Ruby guests on the tour with a lot of plaisance.
Amsterdam – Our final port brought a pleasant addition to our multiple visits to this great city. Most passengers chose popular options including a canal boat or walking tour. For visiting the Anne Frank House, it's best to book ahead online. Purchasing a city transportation pass and/or an attractions pass is a great money saver.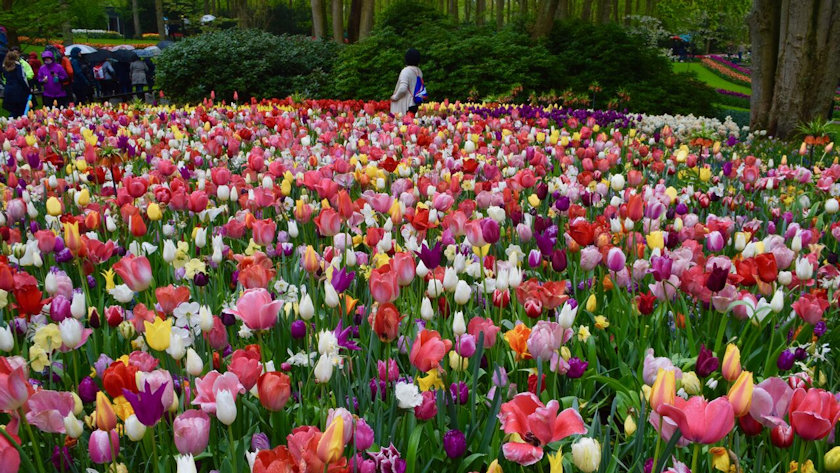 Holland's Tulips in Bloom
We overnighted in Amsterdam for our final night on Scenic Ruby. That fortuitous timing allowed us to visit nearby Lisse to spend half a day exploring Keukenhof, also referred to as the Garden of Europe. With a whopping seven-million-plus tulips, daffodils and hyacinths, it's one of the world's largest flower gardens. More than a million people visited in the 2018 spring season.
A little rain didn't spoil our outing; instead, it offered a dewy intensification of the color explosion amid Keukenhof's well-designed 79 acres easily navigable thanks to signage, good site maps and amicable employees happy to point us in the right direction. The occasional brightly colored umbrella and wellies added to the photos of gorgeous grounds and flower varieties likely not seen anywhere else in the world. Blooms are everywhere in neatly planted sections, in patterns, flowing rows, beds and interspersed with sculptures.
Technology Enhances the Voyage
Throughout our voyage, we were impressed with Scenic's exclusive GPS-enabled TailorMade Devices for guided excursions, on ship deck or balcony viewing or self-paced outings at ports. The devices, with neck strap and earpiece, not only allow guests on excursions to follow a guide's remarks but can be used independently ashore to hear more about landmarks that guests are walking past. They also let viewers access helpful maps, and during the Rhine Gorge cruising were invaluable giving details to what we were seeing onshore as we approached and passed sites.
Internet service is nearly always fast and reliable except for known spots on river cruises. Crew, so familiar with river routes, know where service can be spotty, allowing guests to check Internet service in advance on a river map viewable on the stateroom TV and marked red, yellow, green for bad, better, best Internet connection areas.
Cabins feature an iMac for internet access, TV, music, movies, ship's daily happenings including dinner menus, and access to guest's shipboard account, all projected on a 32-inch Samsung high-definition television. Lectures and nightly entertainment including a pianist who also gets people going with popular songs, will get most people out their cabins.
What's Coming
Scenic Ruby and seven other ships in the fleet are being remodeled during Winter 2018. For Ruby, the remodel will reduce the number of guests from 167 to 161 and cabins from 84 to 81. Crew count will remain at 53.
Other scheduled improvements include two new 520-square-feet Royal Owners Suites; larger wellness centers to include a gym (which is currently lacking); more massage services; and unique to Scenic ships, a Salt Therapy lounge.
The three-station salt lounge offers guests a non-invasive way to feel energized and healthier while relaxing. The humidity and temperature-controlled room is handcrafted from salt bricks and creates a microclimate of a natural salt mine.
Light-weight curtains for privacy separate its three inclined lounging chairs, and low-level lighting and calming music promote the natural relaxing effects of the salt.
Guests on board can use the room as they wish, spending up to a recommended 45 minutes.
The negatively charged salt ions bear a very high kinetic energy and offer the same refreshing feeling that one might find when standing on a beach, according to a spokesperson. The ions also increase the efficacy of healing, improve respiration and skin conditions and boost the immune system.
Also new will be on-board yoga and stretching classes by the onboard wellbeing coach, and every itinerary will offer a host of active excursions in 2019.
For more: Contact www.scenicusa.com or call 844-788-7985. Brochures are downloadable from the website.
Photos courtesy of Kathy M. Newbern and J.S. Fletcher
Husband-wife team J.S. Fletcher and Kathy M. Newbern are award-winning freelance travel journalists and photographers based in Raleigh, NC, who have reported on 81 cruises and visited 76 countries and each continent. They often incorporate their travels into their other business, www.YourNovel.com, where they put you and your sweetie in your own personalized romance nove